M City Condos On A Six-Hectare Parcel Land Starting From The Low $200s
M City Condos Phase 1 is defining the community, is the beginning of a Landmark Community and will start selling in March 2017.
M City Condos will be coming soon to the corner of Confedration Pkwy and Burnhamthorpe by development partners Urban Capital Property Group and Rogers Real Estate Development are creating a new community in the heart of Mississauga. Its not an everyday thing to have the opportunity to create and build a master-planned community where everything from building architecture to landscaped pathways and open spaces are designed to integrate seamlessly with the surroundings and culture. The project was announced by in September 27 2016 by Mississauga Mayor Bonnie Crombie and Edward Rogers. The six-hectare parcel of land was originally purchased in 1960 for a radio transmitter at a cost of $170,000 and the M City project has been in the works since 2007. The Rogers transmitter is now located on the CN Tower. M City Condos will be coming soon to the corner of Burnhamthorpe Road West & Confederation Parkway by Urban Capital Property Group and Rogers Real Estate Development Limited. CORE Architects are the architects and Cecconi Simone are the interior designers. The family of telecom and media mogul Ted Rogers announced plans for a $1.5 billion real-estate development in downtown Mississauga. With an emphasis on modern designs, contemporary architecture and refined lifestyle amenities.
M City Mississauga

M City will be located at the south west corner of Burnhamthorpe and Confederation just minutes from Mississauga's vibrant city centre - a 10 residential condo tower that will have Studios, 1 bedroom and 1 bedroom plus den units, 2 bedroom and 2 bedroom plus den units, 3 bedroom units and townhomes and which will also feature more than two acres of parkland (New public parks with European style outdoor patio spaces) with frontage on Burnhamthorpe Road. At this time the developers and designers are in the process of finalizing the floor plans and pricing. We are currently accepting registrations for those wishing to be contacted for our preview opening. Bring your guests directly from the Lobby to the Party Room Lounge to gather around, celebrate and toast. Some of the amenities that M City Condos will be offering are main Lobby with Concierge, Party Room Lounge, Servery, Party Room Dining, Indoor Bar, Outdoor Bar, Outdoor Lounge and Fireplace, Fitness Centre, Children's Playroom, Dog Wash Day, Mail Room and Elevators.

The condo development of M City will continue Rogers' long history in Mississauga. In the 1960s, Ted Rogers purchased 43 hectares of farmland in Mississauga on which to locate transmitters for one of his first business ventures, radio station CHFI. The plans allow for 6,000 condominium units for rent or sale, ranging in price from $200,000 to $700,000 with the first phase of construction beginning in late 2017 or earlier 2018 and continue in stages over the next decade. The first tower is expected to make an iconic addition to the skyline with 51 undulating stories and 700 units which will go up for sale in Spring 2017. The Master Plan outlines a guide for the city to ensure everyone who will live and work in the downtown area - residents, landowners and developers - has their say as a new planning framework for Downtown Mississauga is developed. CORE Architects, which built the College Condominium at 297 College, won a major design competition for College Condos. It remains to be seen whether the City Of Mississauga can learn from Toronto's mistakes, CityPlace building up its waterfront, or debates about the need for light rail transit. We can say this is a new and exciting venture but there are a few drawbacks when it comes to this kind of venture, the relationship between the City, developers, and local residents is vital. Rogers Real Estate provided to the City outlining a new project named Garden City Mississauga, a 10-tower development in downtown Mississauga where Burnhamthorpe Road meets Confederation Parkway. The site in Mississauga is the last piece of undeveloped land in the area. The towers go as high as 21 to 30 floors up to 51 to 60 floors. Podiums will be three to six storeys. Mississauga's downtown core will have many walkable streets to shop and eat at many different restaurants in the area. It consist of many beautiful places like public squares, parks and outdoor food markets, also an entertainment district and a vast majority of big venues to experience arts and culture that make the city a wonderful place to live and work and shop. All this will be available to residents and visitors, as well as people who are going to be working in downtown Mississauga. Going downtown will be faster - an expanded collection of bike paths and much improved transit will move you in and around Mississauga and at the same time providing the best connections that employees and businesses are looking for right across the Greater Toronto Area.


Mississauga's future is about enjoying today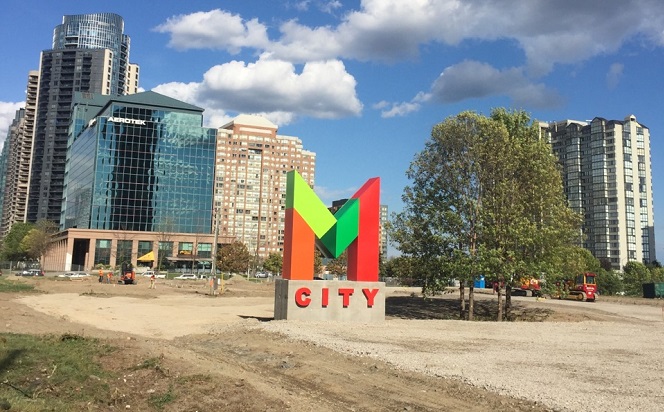 M City Condos is a 10-tower, 15-acre, 4.3 million sq. ft. master planned community in Mississauga, Ontario which will include more than two-acres of public parkland in the downtown core. Brought to life by Mississauga's Downtown21 Master Plan, Rogers Real Estate Development Limited with great pride announces M City Condos as the first major residential development from the Rogers family. The carefully planned project has been in the planning stages since 2007, when Rogers Real Estate Development got the assistance from renowned Canadian developer Urban Capital Property Group to oversee the process of turning a long held family asset into a legacy community.
A 15-acre plot of land that has been vacant on the south side of Burnhamthorpe Road in Mississauga is finally going to be changed into a $1.5 billion dollar development, M City Condos. The site was to be used for a radio transmitter, the property which is owned by the Rogers family through Rogers Real Estate Development Ltd., will be constructed over the next 5 to 10 years that will include 4.3 million square feet of space spread across 10 towers, podiums, and townhome rows. Brand new developers Rogers will be team up with veteran developers Urban Capital to construct the condominiums.
While the blueprint of the site designed by Cooper Robertson of New York is not final, the different shapes of the buildings shown on the site plan should be considered just a sketch. The northeast corner of the proposed site which will be the first to be constructed, with an amazing 51-storey condominium tower designed by Core Architects. The building, which duplicates one of seven different floor plans as it rises, was the winner of a private competition between three high-profile Canadian architectural firms, and is meant to be the first of many unique designs to come from for the rest of the development.
The Future at M City Condos
Mississauga's future is about enjoying today. M City Condos is where enjoying the day will start in a new condominium community at Burnamthorpe and Confederation Pkwy. Mary Fix Creek Gateway, a city-within-a-city combines green spaces with a family neighbourhood feel, all in Mississauga. The new M City Condos community is about bringing family, friends and neighbours closer, and also with a major mall such as Square One, Sheridan College, banks and libraries a walk away, commercial and public amenities are all within walking distance. Culture, character and personality are all attributes of a great community. Mississauga residents can find the best of it at the nearby public places such as the Civic Centre, Celebration Square and the Living Arts Centre. Also when the need for travel comes up for work or pleasure, residents have transportation all around them. Choices they will have are the GO, Mississauga Transit or bike paths, all are convenient and readily available.
M City is poised to create a dynamic public realm designed to add a new cultural feeling to Mississauga's thriving ever changing population, while providing its residents with the things it needs future growth. The future is set on connectivity, character and growth. M City features will include extending existing city streets on a unique line to create a network of street blocks, creating a pedestrian-friendly environment. Typical residential blocks will provide two-way roads with on-street parking and large sidewalks. The developments by Rogers Communications are consistent with Mississauga's commitment to build a livable, walkable city, home to multicultural residents and commercial developments that will be connected to a new and expanded transit network. Urban Capital Property Group is also launching 2 other pre-construction condo projects, one in West Don Lands called Harris Square Condos and the other project in Etobicoke called The Queensway Condos.

For more information about M City Condos, please register below